Journalism Department Newsletter Spring 2018

KCPR to Celebrate 50 years On the Air
Join the Journalism Department on campus October 12-13 to celebrate the 50th anniversary of KCPR-FM and induct the next class into the Mustang Media Hall of Fame.   
Donald Munro Celebrates One-Year Anniversary Launch of "Munro Review"
Longtime Fresno Bee arts reporter Donald Munro (Journalism, '86) left the paper after 26 years, taking a buyout from the Fresno Bee in May 2017 to launch The Munro Review, a theater blog featuring previews, reviews, briefs, picks and long-form arts coverage of the San Joaquin Valley.  
Journalism Alumna Launches Sunflower Hill, a Community for People with Special Needs 
Susan Houghton is launching Sunflower Hill, a community designed for individuals with developmental delays, including but not limited to Down syndrome, cerebral palsy and autism. 
Journalism Student Starts Film Festival for Young Filmmakers
Journalism student Michael Frank conceived of, planned and staged the first ever 25 Under 25 Film Festival, featuring 25 films made by young filmmakers from across California.  
Film by Journalism Students and Faculty Featured in SLO Film Fest
"Finding Home," a short film created by Cal Poly Journalism Department students and faculty, was featured in the San Luis Obispo Film Festival in March.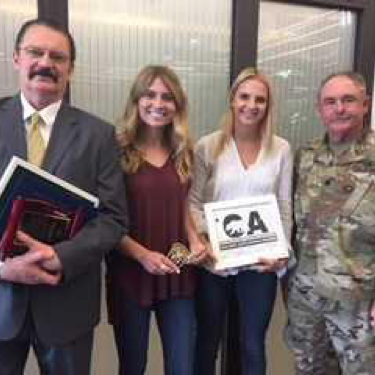 Journalism Professor Receives Commendation from California Military Department
Dr. Dan Eller and the team at Central Coast PRspectives (CCPR) received commendation in April for their work with the California Military Department.
Read more about CCPR's work with the California Military Department

"Around the Block" Podcast Features Two Journalism Alumni
In the latest episodes of journalism senior Megan Schellong's podcast, "Around the Block," she sits down for separate interviews with Armando Torres Garcia (Journalism, '13) and Julia Prodis Sulek (Journalism, '86).
Alumni Updates
Breaking news on Journalism Department alumni.
---
Related Content