Mustang Media Group Earns 33 Awards at National Conference
Mustang Media Group, Cal Poly's student-run media organization, received 33 journalism, broadcasting and advertising awards at a recent national conference.
The awards were presented at the joint convention of the Associated Collegiate Press (ACP) and College Media Association (CMA) in Washington, D.C. between Oct. 31 and Nov. 2.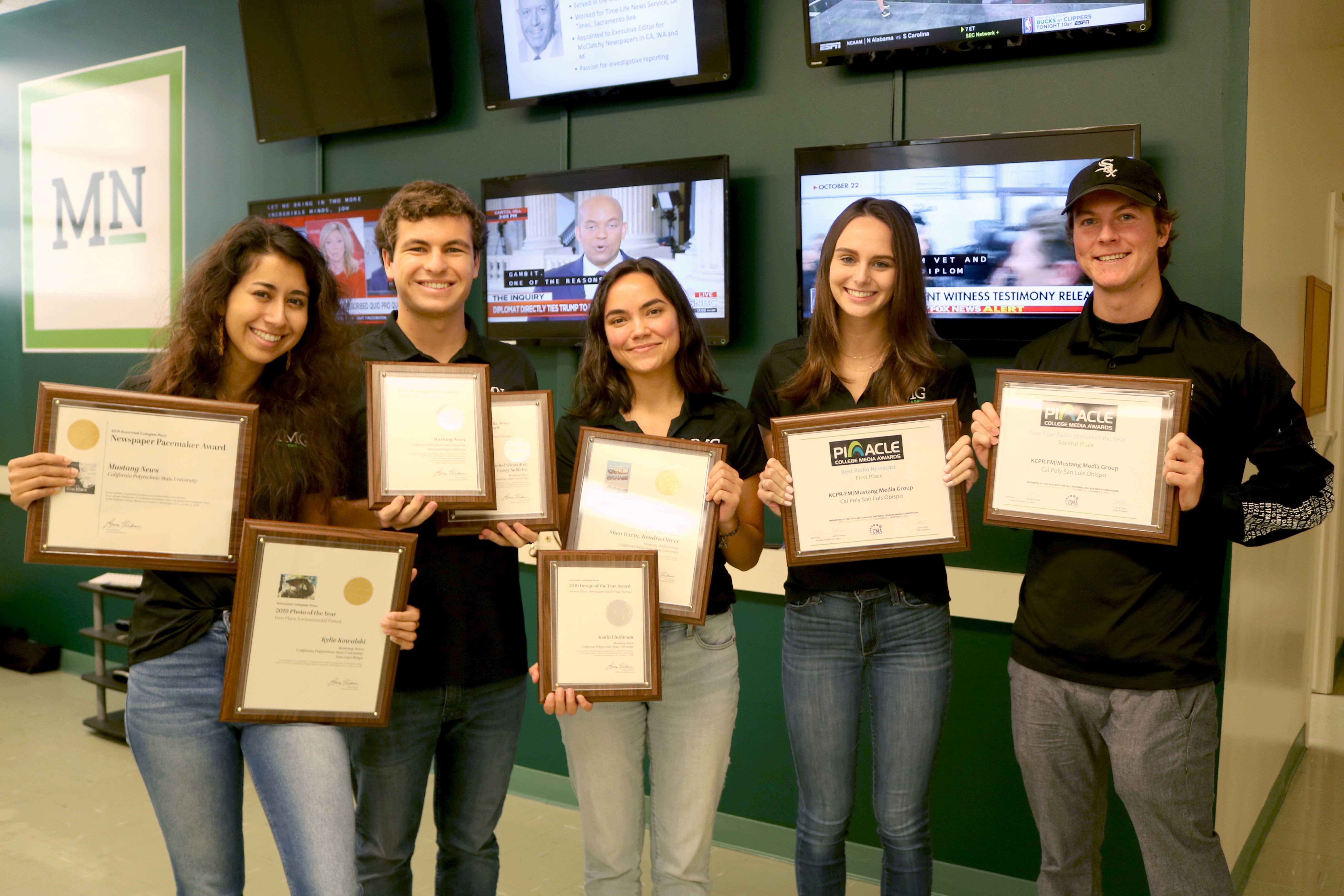 Mustang Media Group managers and editor-in-chief
with some of the awards
The total includes three first place awards, 12 second place, four third place, one fifth place, and 12 honorable mentions.
The awards mostly recognized student work published or broadcast during the 2018-2019 school year.
Among the highlights, campus news organization Mustang News won its first ACP newspaper Pacemaker Award — one of the top honors available to student print publications.
KCPR, Cal Poly's radio station, came in second place among four-year schools in the Radio Station of the Year category in the CMA's Pinnacle competition. The news show "Mustang News on KCPR" received first place for best radio newscast in the same competition.
"People talk about the Pacemaker as the 'The Pulitzer Prize of college journalism.' I think it affirms that the work these students are doing is up there with the best of the best," journalism professor and Mustang Media Group Advisor Pat Howe said.
Other schools that won print Pacemaker recognition include University of California, Los Angeles, Syracuse University and New York University. In all, 12 four-year college news organizations received Pacemakers. Mustang News was a finalist for the award last year.
Mustang News also won first place awards for photography, in the category of environmental portrait, and for advertising, in the categories of best media kit and best newspaper supplement.
The newspaper and mustangnews.net website also garnered second place Best of Show awards in their respective categories among dozens of schools that attended the conference.
"It feels amazing to be recognized for our team's work this past year," Editor-in-Chief and business administration senior Austin Linthicum said. "Every MMG platform — web, print, radio, social and video — received top national recognition. I am so grateful to everyone who contributed to Mustang News and KCPR last year and am proud to be a member of one of the best teams in student media."
In the Radio Station of the Year category, KCPR was judged on the excellence of their coverage and content while reporting, as well as the quality and creativity of their content and their overall service to the community.
Mustang News on KCPR's Pinnacle award for best radio newscast was judged on excellence and objectivity in writing, and for innovative and high quality production in the newscast.
"I am so proud of everyone on my team who has helped KCPR become what it is today," business administration senior and KCPR Manager Max Motley said. "The DJs at the station have been working extremely hard to achieve excellence and innovation over the past 12 months. I am overjoyed to see that their hard work in pushing the scope of college radio's role in the community has finally paid off."
Journalism senior and Mustang News Managing Editor Cassandra Garibay was also honored as a finalist for Reporter of the Year for the Associated Collegiate Press.
"What being a finalist meant didn't really kick in for a few days," Garibay said. "I am so incredibly honored to be recognized among the top collegiate reporters. This makes me want to push myself even more, not just for myself, but for the communities I'm serving."
Listed below are other awards won by Mustang Media Group from the ACP / CMA convention.
From the Associated Collegiate Press (ACP) - Individual Pacemakers - National
Photo of the Year for Environmental Portrait - First Place, Kylie Kowalski
Design of the Year for Newspaper Inside Page / Spread - Second Place, Austin Linthicum
Multimedia Story of the Year for a Multimedia Feature Story Package - Fifth Place, Rachel Showalter and Casey Sublette
Advertisement of the Year for Advertising / Editorial Newspaper Supplement - First Place, Von Balanon, Shea Irwin, Kendra Oliver
For a full list of ACP awards, visit their website.
From the College Media Association (CMA) - Pinnacles - National
The organization received in total 19 Pinnacle awards. Highlights of these awards include the Best Rate Card/ Media Kit by Shea Irwin, second best social media strategy by Lauren Arendt, second best Multimedia Feature Story by Casey Sublette and Rachel Showalter, second best Newspaper Sports Page/Spread by Austin Linthicum and second best Ad Campaign by Von Balanon.
Related Content