New Scholarships and Awards in Journalism Department
The Journalism Department awarded two new scholarships and an award in 2018, thanks to the generosity of our alumni and friends.
By Yasel Hurtado 
Weinrichter/Sundeen Scholarship

Emily Merten, 2018
Weinrichter/Sundeen scholarship recipient
The Kathryn D. Weinrichter and Leonard C. Sundeen Full Journalism Scholarship is the first full scholarship in the College of Liberal Arts. It gives the recipient a "full ride" to Cal Poly for a year, funding fees and tuition, books and supplies, and room and board. The first recipient is third-year journalism student Emily Merten, who was presented the award in June at the 2018 Journalism banquet.
"It was such a huge surprise. I couldn't believe it for a while; I was in shock," Merten said. "It lifted a huge burden off my family and me."
Weinrichter (Journalism, '70) and her husband are funding the scholarship annually for a journalism student pursuing a minor in Science, Technology and Society.
---
SAGE Award
SAGE Publishing, a leading independent, academic, and professional publisher, funded a new endowment that will support an annual $1,000 award for Cal Poly students whose published work addresses scientific, statistical, technical or social issues affecting the Cal Poly community.
The first SAGE Award was given to four student reporters who worked together to publish a story on opioid deaths in SLO County. Megan Healy, Lindsay Mann, Mikaela Duhs and Megan Lynch produced the story as an assignment for their Senior Media Practicum class, JOUR 462. It was published in Mustang News in April.
"We are proud to support and recognize students for their journalistic excellence and through this award hope to encourage their ongoing contributions to the field of journalism and the dissemination of knowledge," said Tracey Ozmina (Journalism, '92), SAGE Publishing's chief operating officer.
---
In Memory of Jordan Grant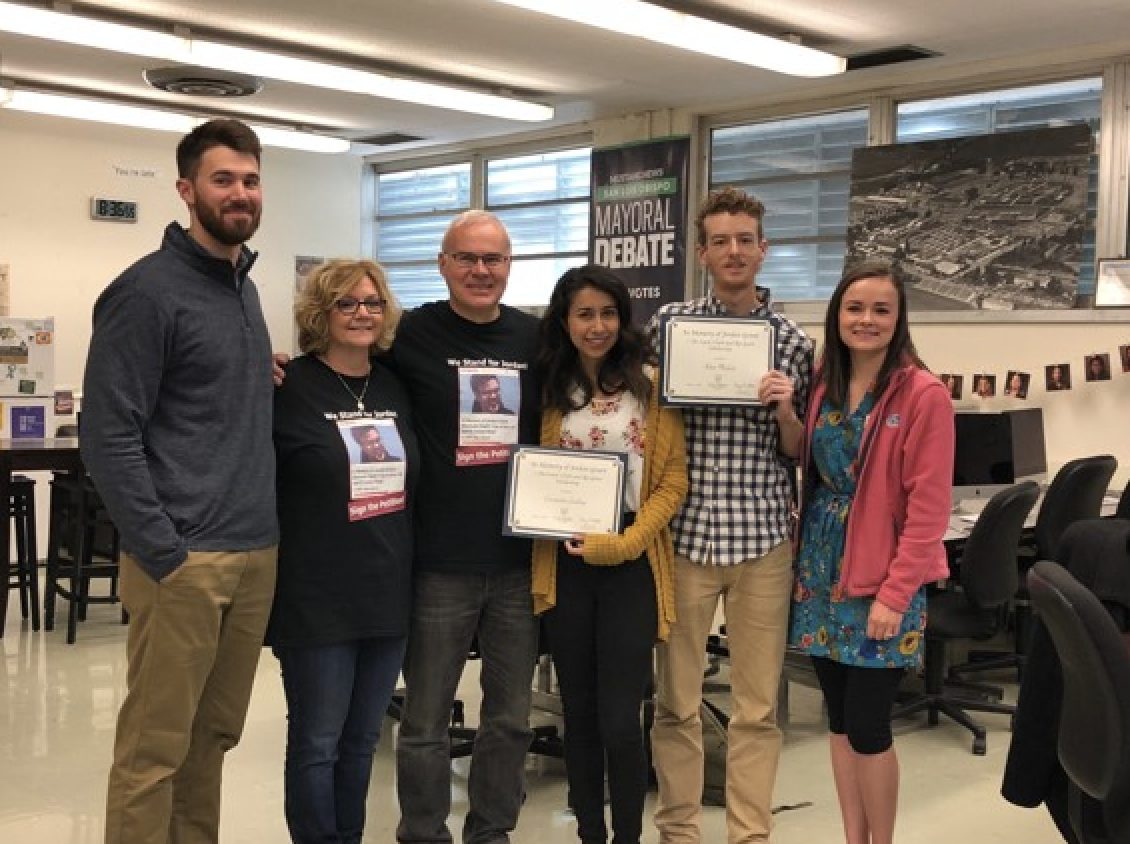 Presentation of the Lucas Clark and
Aja Goare Scholarship Award 2018
The family of Cal Poly student Jordan Grant is funding a $5,000 journalism scholarship in his honor. Jordan was a first-year Cal Poly computer engineering student who was killed October 7 in a motorcycle crash on Highway 101.
In Memory of Jordan Grant — The Lucas Clark and Aja Goare Scholarship Award is named in honor of two local journalists, Lucas Clark, formerly of the San Luis Obispo Tribune, and Aja Goare of KSBY-TV. Both followed the heartbreaking story of Jordan's death, his family's grief and their desire to address safety issues at the intersection where Jordan lost his life.
Jordan's father, James Grant, told Mustang News that his daughter is a talented writer, and he has been helping raise her awareness of how journalism is under attack. "The best and brightest need to go into that field if we are to protect and progress our society," he wrote in an email.
The award will be given annually to a student who demonstrates excellence and commitment to the field of journalism and is an active member of the Mustang News team.
 
---
The Journalism Department awards dozens of scholarships and honors each year. Details about additional scholarships and awards are available here.
Related Content