Journalism Department Newsletter Winter 2020

Journalism Department Advisory Board Welcomes Five New Members
The Journalism Department recently welcomed five new members to the Department Advisory Board. They shared career highlights, favorite memories, and inspiration. 
Taking Learning Online
Despite the fact that they are lined up on a screen like the opening of "The Brady Bunch" or "Hollywood Squares," students in JOUR 415 this quarter are going about their usual coursework: developing public relations activities to support Mustang Media Group.
Working in the #MeToo Era
Journalism graduate (2005) Carolyn McGourty Supple joined two accomplished journalists and activists on March 5 for Working in the #MeToo Era, a department event designed to address the issues women face in the media workplace.
New class teaches students to think like an entrepreneur
A new course in the Journalism Department is asking students to grapple with the big questions facing our profession: How do we get more people to read the news? How do we make accurate information accessible to wider audiences? How can we develop new revenue to support journalism?
5 Key Takeaways from Matt Thompson, Editor-in-Chief of Reveal
Matt Thompson talked about the passion for local news he developed as a young reporter at The Fresno Bee. Here are five key take-aways from his Q&A with Mustang News Managing Editor Cassandra Garibay during a campus visit in February.
Read more about the Q&A on campus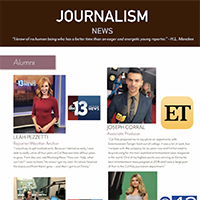 The Journalism Department has a new look!
The second floor of Building 26 recently underwent a transformation. The walls were painted for the first time in about 17 years, and the old bulletin boards were replaced by new glass display boards, or "fish bowls," to showcase information about classes, opportunities for students, and inspiration from department alumni. 
Read more about the new displays
Support Mustang News and KCPR
Student work on Mustang News and KCPR is vital to the community -- now more than ever. Students have been covering the most important news event of our lifetime, with daily updates on the impact of COVID-19 on Cal Poly and San Luis Obispo.
Read more about how you can support student media
Alumni Updates
The latest news and accomplishments from Journalism Department alumni.  
Related Content