Journalism Department Newsletter Winter 2021

Student Media Adapts to a Virtual World
The pandemic may have forced them off campus, but journalism students and faculty are turning to alternative methods to produce exceptional journalism across multiple platforms.
Willard Takes Workshop Online
Radio broadcaster Mark Willard (1997) is getting back into his workshop groove.
Alumni Turned Authors
The move from reporter to journalist was not a huge leap for these five Cal Poly alumni who have recently published or plan to publish their new books.
Students and Faculty Adapt to Online Learning
Online learning has changed the way people view remote school and revolutionized remote journalism. Cal Poly Journalism students are able to complete assignments and meet deadlines with some new technology.
McDonald-Liu Joins PR Faculty
Casey McDonald-Liu, Ph.D., who joined the faculty in fall 2020, brings her professional marketing and public relations experience and her passion for research to the journalism program.
Alumni Survey Results Are In
Ninety-seven percent of Cal Poly Journalism graduates who responded to the department's recent alumni survey reported being satisfied (35%) or very satisfied (62%) with their journalism education.
Read more about the survey results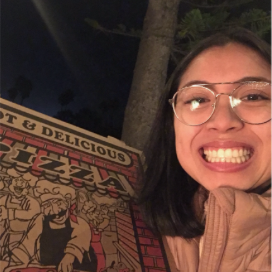 Thank You for the Pizza!
A staple of any election night is pizza in the newsroom. So what happens when the newsroom is closed because of a pandemic, and student journalists are covering this important story from home? The pizzas come to them!
Read more about the pizza delivery
Alumni Updates
Check out the latest accomplishments, awards and news from Journalism Department alumni.
Related Content