Drone Provides Innovative Storytelling Tool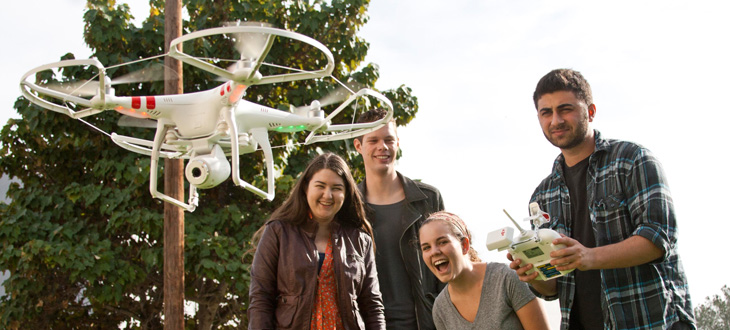 Journalism students experiment with a Phantom 2 Vision drone.
The Cal Poly Journalism Department has joined a handful of journalism programs nationwide in experimenting with drones for multimedia storytelling.
The department purchased a Phantom 2 Vision drone in April 2014. A digital camera is mounted on the small, unmanned aircraft, which is remotely controlled from the ground. Students link a smartphone or tablet to the controller to see what the camera sees.
The College of Journalism and Mass Communication at the University Nebraska-Lincoln became the first to use drones in November 2011 as part of a digital journalism and innovation strategy. Since then, other schools and news organizations have begun to use the technology. There is even a new professional society for drone journalists.

Ian Billings, 2015 grad, captures a spectacular shot of Spanos Stadium using
JOUR Dept.'s new drone camera . Students from Mustang News also used the drone
for aerial shots of Baggett Stadium during the NCAA baseball regional in May.
Journalism alumnus Katrina Borges (B.S., Journalism, 2014) used the drone while she was a student for a story on traffic congestion around campus during peak driving times. Borges went to the main parking lots and busiest intersections and sent the drone 200 feet into the sky to record the streets below.
"I was expecting to see all these traffic jams," Borges said. "And watching it from the sky, it was not that bad. It looks way worse from a car than it does from the air."
Drone activities fall under the watchful eye of the Federal Aviation Administration (FAA), which recently approved drones for commercial use. Cal Poly's journalism drone is grounded for now while the department explores ways to comply with new guidelines from the California State University Chancellor's Office and the FAA.
Related Content